Melodian Co. Ltd. was founded in 1958 in Yao City, Osaka, as Osaka's newest dairy product company. We currently manufacture and market the long-time favorite, "Melodian Mini" creamer, along with gum syrup, long-life beverages, and health beverages.
Our management vision asserts:
Our future lies with portion packaging, and we will keep pursuing all its potentials. Using "tasty-oriented," "health-oriented," and "authenticity-oriented" as key concepts, we conduct corporate activities to become a company that brings happiness to—and shares joy and excitement with—not only the customers but also our business partners, employees, and other partners.
Under the slogan of "Itsumo senteno Melodian [Melodian, Always Leading the Way]," all of our employees actively endeavor to stay innovative.
Having becoming the first company in Japan to release a portion-packaged coffee creamer, our product development has developed a variety of products. Our product development, themed as "Tastiness is Happiness" and "Beauty and Health," seeks to develop customer-satisfying and high-value-adding products.
In addition, our production system uses a two-factory system consisting of the Mie Plant (completed in 1986) and the Kanto Plant (completed in 2016). As the operator of food plants, we take safety and security very seriously. We continue to strive to operate plants that are trusted by our customers and can contribute to the society.
We will continue pursuing the creation of a rich food culture and we are—in the spirit of our business creed, "Be someone people can trust, make products people can trust, and be a company that people can trust"—determined to conduct our corporate activities to satisfy our customers, employees, and partners to the greatest extent.
Thank you for your continued support.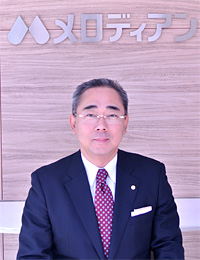 Yukio Nakanishi, President